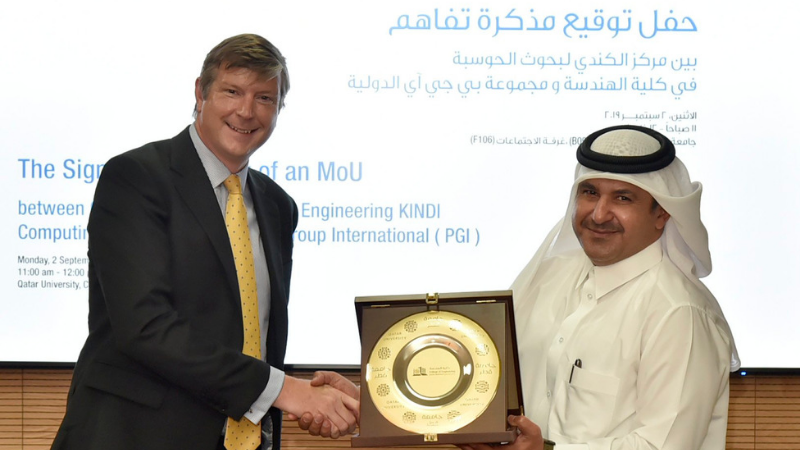 Protection Group International yesterday signed a Memorandum of Understanding with Qatar University College of Engineering (QU-CENG) KINDI Center for Computing Research to partner on developing a Cyber Academy at Qatar University.
This Memorandum of Understanding is aimed at developing a collaboration with Qatar University (QU) to deliver, coordinate and oversee a comprehensive approach to cyber security skills training in the State of Qatar.
This will enhance the opportunities of building QU's capacity and capability to deliver cyber security training to benefit government and commercial sectors.
The Memorandum of Understanding was signed by CENG Dean Dr Khalid Kamal Naji and PGI Chief Corporate Development Officer Mr Sebastian Madden in the presence of the British Chargé d'Affaires and a delegation from the British Embassy, PGI representatives, as well as CENG leadership, faculty and staff.
Dr Khalid Kamal Naji believes this partnership will assist CENG in its mission to fulfil the needs of the industrial sector.
"This approach will provide students with training and internship opportunities that enable them to make a difference in various areas at the workplace," Dr Naji said.
KINDI Director, Dr Noora Fetais says that a plan to develop infrastructure and skills to enhance cyber security controls is vital and this partnership is an important part of their plan.
"Until recently, cybercrime was limited to individuals or small groups, but as Internet networks expanded, these crimes became more complex and widespread, causing significant damage to companies and institutions," Dr Fetais said.
"Although there is an evolution in the systems of some institutions, they are not immune to cyber attacks because of the development of mechanisms and methods of electronic hackers; hence, all institutions need to develop a plan for the development of their infrastructure to enhance cyber security and at the same time individuals need to develop their skills in this area," she said.
Mr Sebastian Madden says that advanced digital economies require large numbers of skilled security professionals to ensure their security.
"This requires programmes like those we provide at PGI's Cyber Academy that deliver an efficient mix of training, development and experience. We create new cyber security professionals through reskilling and role-based training as well as providing continuing professional development for staff in every cyber career path using UK Government certified training," Mr Madden said.
"In the last 5 years, PGI has worked with more than 30 countries to deliver national cyber security capacity building programmes, and to train and reskill government, defence, police, critical infrastructure, financial sector and corporate staff.
"PGI is delighted to have been selected as Qatar University College of Engineering's partner on this exciting initiative so that we can share this experience to develop the State of Qatar's ability to deliver similar programmes," he said.
ENDS
For more information on how PGI's training programmes can help your organisation build a cyber security capability, please contact us.