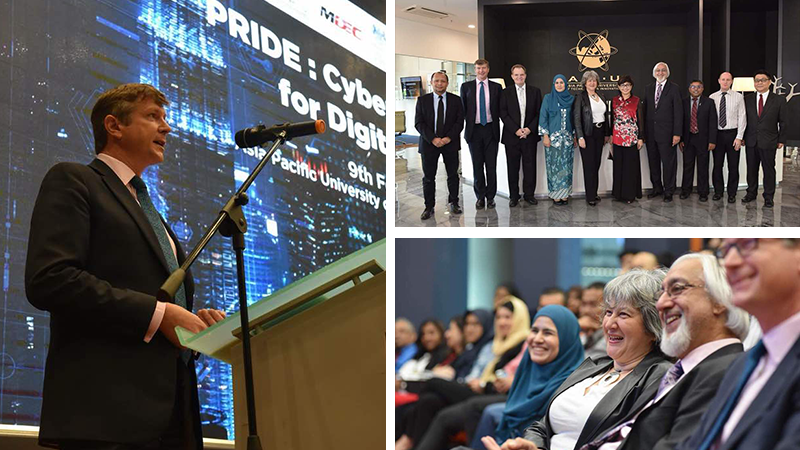 Malaysia Digital Economy Corp (MDEC) has partnered with Protection Group International to build a cyber training academy at APU (Asia Pacific University), to protect and enhance Malaysia's digital economy and build cyber security training capability across the Asia-Pacific region.
On Friday 9 February 2018, PGI signed a collaboration agreement for the PRIDE cyber security re-skilling pilot which will be delivered by the MDEC, Asia Pacific University, PGI and a Malaysian technology company Tecforte as a key enabler for the development of Malaysia's digital economy.
As its contribution to the pilot, PGI will be installing some of its Cyber Training infrastructure at the APU, delivering SOC Incident Responder training to 72 Malaysian delegates, and training two Malaysian trainers so that the new facility will be self-sufficient. PGI has also committed to sharing knowledge and best practice and provide ongoing support and advice to MDEC's efforts to build Malaysia's cyber security industry.
This exciting and important initiative will have two vital outcomes:
first, increasing the numbers of Malaysian cyber security professionals through training and certification; and
second, building Malaysian cyber security training capability. The pilot will install a replica of part of PGI's UK Cyber Academy to train Malaysians as cyber professionals. It will also act as a regional training centre, reskilling people and supporting programmes across the Asia-Pacific region.
This initiative will be instrumental in helping protect the Malaysian economy, businesses and national security in cyber space and fill some of the projected 2 million unfilled cyber security roles worldwide.
Chief Executive Officer of MDEC, Datuk Yasmin Mahmood, said the collaboration between industry players and academia would identify the gaps in the industry and pilot critical skill set development.
"This will also help to upskill cybersecurity industry talents and produce high-income professionals," she told reporters after witnessing the exchange of the agreements.
ASEAN's digital economy has the potential to add US$1 trillion (RM3.94 trillion) to the region's gross domestic product (GDP) over the next decade.
"However, the increasing wave of cyberthreats and risks could impede trust and resilience in the digital economy and prevent the region from realising its full digital potential "Looking at Malaysia, it has also seen strong economic growth in recent years and is determined to continue this trend to achieve the government's vision of becoming a high-income nation," she said.
Commenting on the agreement, Sebastian Madden, PGI's Chief Corporate Development Officer said:
"This agreement is a significant step towards establishing a Far East version of PGI's Cyber Academy. It will act as our regional training hub and provide an alternative delivery option through which all our international clients can access PGI's high-quality, UK government certified, cyber security skills training. We are very excited about the potential for this partnership, which plays a major role in the PGI Cyber Academy's international expansion. We are proud that our Cyber Security training will play a role in bringing economic benefits to Malaysia by protecting its digital economy and helping its talented professionals enter well-paid cyber security careers."
PGI is offering the experience of its Bristol-based Cyber Academy, the first of its kind in Europe. This was opened in 2014 by our Home Office Minister to increase the UK's cyber security capacity and reduce the global skills gap by delivering cyber security training at scale.
'We provide reskilling and role-based training to create new cyber security professionals, continuing career path-based professional development, and leadership training,' states Sebastian Madden.
'Our training is certified by GCHQ, the UK's Technical Authority for Cyber Security through its Certified Training scheme and delivered by practitioner trainers.'
Since opening, PGI have trained and reskilled staff for UK government, military, police, critical infrastructure, banking and corporate clients, trained delegates from nearly 30 countries and delivered national capacity building programmes in 6 countries.
The collaborative agreement aims to replicate the successes of PGI's Cyber Academy in the UK in Malaysia and the Asia-Pacific region.
For more information about the PGI Cyber Academy or this announcement, please contact marketing@pgitl.com