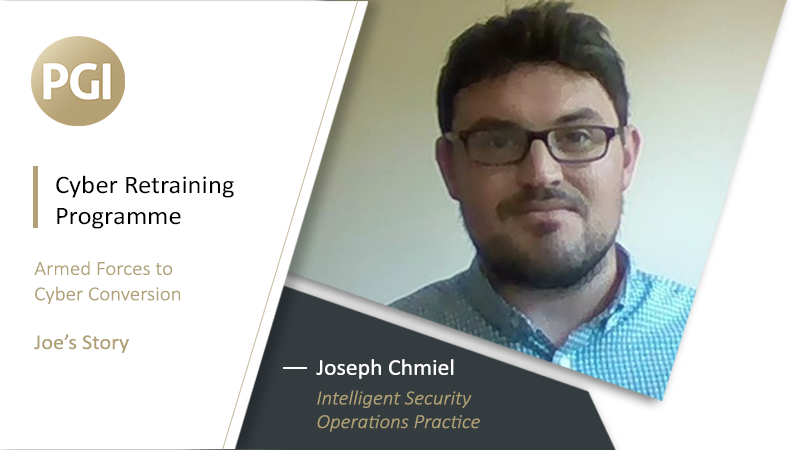 Joseph Chmiel, Cyber Career Conversion Programme participant
Prior to the Cyber Career Conversion Programme I served as a Captain in the British Army's Intelligence Corps. It was a stimulating, vastly rewarding career and deciding that it was time to try something different wasn't easy. During my time as an intelligence officer I had the privilege of leading talented teams in demanding environments, working in strategically significant organisations and deploying on a number of high profile overseas operations.
I left the military in late 2017, having spent some time during resettlement working in law enforcement, and began considering options for a move into cyber security. Identifying where my existing skill set would be most valued in the industry was challenging and when a colleague introduced me to the Cyber Retraining Programme it was immediately clear that it could provide the gateway I was looking for.
Not only would it provide a fully funded place on a comprehensive retraining programme, but it would also guarantee a position with a market leader in cyber security.
The assessment centre was split over two days at the PGI Cyber Academy. The first day, led by Hawker Chase and PGI staff, had the dual role of providing candidates with some context surrounding the cyber security market and also conducting an assessment on our existing technical knowledge. The second day was dedicated to interviews with various practice leaders and senior staff from the world's leading independent, end-to-end IT services and solutions company. Part of my previous role in the military involved providing information security governance and risk management, however my "hands-on" or technical exposure to cyber was negligible and as such the technical assessment was extremely tough.
Fortunately the PGI instructors provided a friendly hand throughout, guiding us in the right direction when navigating tools which we hadn't previously encountered.
In addition, the wider input from Hawker Chase provided us with a useful steer toward success at the interview during the second day. Naturally, there's always pressure during interviews but with my employer the process was structured in a non-leading way and allowed you to take ownership of how to best present your qualities and aspirations.
From the outset the Cyber Academy was conducted at a fairly relentless tempo. A significant number of new concepts and wealth of technical information had to be assimilated quickly as the courses increased in their complexity throughout.
Though demanding, the structure of the programme meant you were continually building on and reinforcing knowledge learnt and it was this that enabled us to effectively tackle more sophisticated technical challenges as the academy developed.
The PGI instructors were also fantastic; guiding us patiently through the development of our practical capabilities, sharing vast technical knowledge, and managing to keep the smiling despite the pressure of numerous exams.
The significant investment of time and effort is absolutely worth it when I look back at my development over the course.
I've gone from having no technical experience of note to holding a wide range of qualifications from numerous vendors and in range of disciplines; including Digital Forensics, PenetrationTesting, Incident Response, SOC Analysis and Information Security Management.
I'm very happy with how I was able to perform on the course and hope that it demonstrates to others with a non-technical background that it needn't prevent you from entering the cyber security industry.
I now recognise that you don't need to able write streams of code or have a degree in computer science to succeed. Even in the more technical areas a methodical approach, intellectual curiosity and some excellent instruction make the transition is possible.
I'm now working for the Intelligent Security Operations practice within the world's leading independent, end-to-end IT services and solutions company.
Our principle business areas include SIEM consulting, SOC Advisory and Cyber Threat Intelligence (CTI). So far I've been predominantly supporting work to develop our CTI offering and in the coming weeks I should be conducting some vendor specific training on SIEM technologies. It's great to be part of dynamic and growing team and I can't wait to be thrust into client-facing engagements in the near future.
I'm really grateful for the investment made and faith shown in me by a Global IT Services and Solutions Leader and completing the Cyber Academy is just the beginning of this exciting phase of my career.
In the short-term my career goals are focused around continuing my technical development, learning the more commercial aspects of our work and finding the best way to transfer the qualities I required to be an effective Army Officer into my new role.
It's too early to define long-term aspirations but I can already see a huge opportunity for progression and development within the organisation. Whatever the future holds though, the Cyber Retraining Programme has opened up a whole new world of opportunity.
Joseph participated in the first cohort of our Cyber Career Conversion Programme initiatives. He is now working within the cyber and information security industry. If you would like to bridge the skills gap within your organisation, contact us to discuss running a Programme within your organisation.